Nutrition and Cancer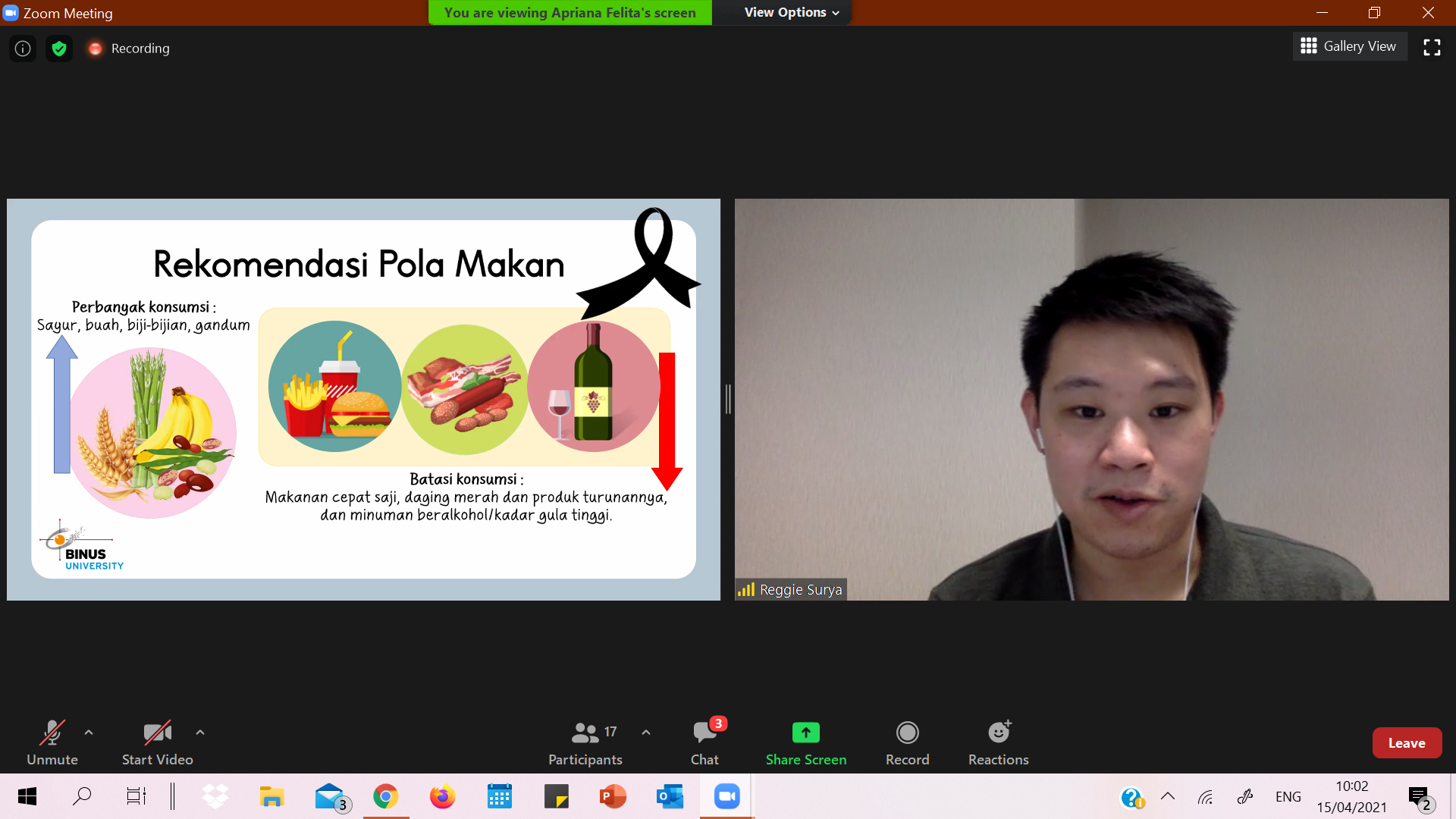 Kamis (15/4) lalu sejumlah dosen Teknologi Pangan BINUS University menjalankan aktivitas Pengabdian Masyarakat. Dikarenakan kondisi pandemi, kegiatan pengabdian masyarakat dilaksanakan secara daring. Sasaran kegiatan ini adalah masyarakat umum dan para pelaku Usaha Mikro, Kecil dan Menengah (UMKM) yang mana koordinasinya dibantu oleh Community Development Academic (CDA) BINUS University.
Membuka kegiatan ini adalah pemaparan dari Bapak Reggie Surya, S.T.P., M.Sc., Ph.D dan Apriana Felita, salah satu mahasiswa teknologi pangan BINUS University dengan topik "Nutrition and Cancer". Dalam presentasi disampaikan pentingnya untuk menjaga pola makan yang seimbang dan olahraga yang cukup. Konsumsi daging merah sebaiknya dibatasi tidak lebih dari 500 gram seminggu guna menghindari risiko kanker kolon. Selain itu, budaya mengonsumsi gorengan yang telah melekat pada masyarakat Indonesia sebaiknya dikurangi. Masyarakat dianjurkan mengonsumsi makanan yang mengandung lemak tidak jenuh seperti salah satunya yang terkandung pada ikan. Konsumsi lemak tetap diperlukan karena lemak merupakan media untuk mendistribusikan vitamin larut lemak (A, D, E, K) dalam tubuh, namun sumber dan jenisnya perlu diperhatikan.