Guest Lecture – How to do systematic review for undergraduate thesis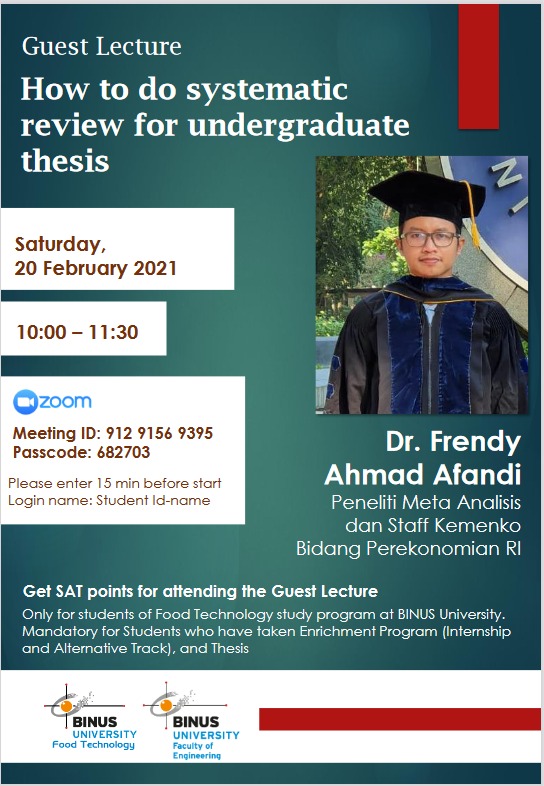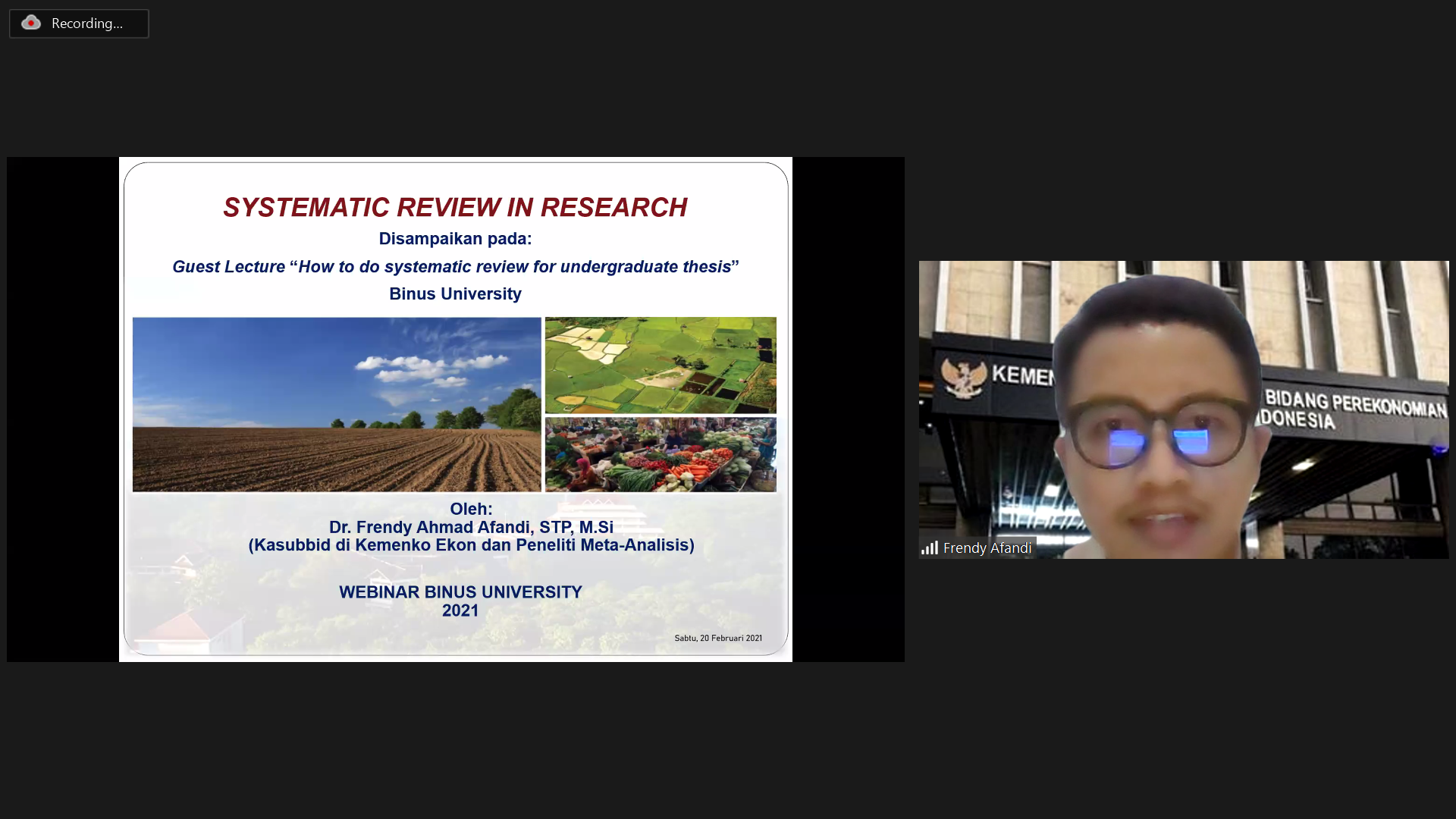 Sabtu (20/2) lalu Departemen Food Technology menyelenggarakan kuliah tamu bertemakan "How to do systematic review for undergraduate thesis" dengan mengundang Bapak Dr. Frendy Ahmad Afandi, S.TP, M.Si sebagai pemateri. Bapak Frendy merupakan peneliti meta-analisis sekaligus Kasubbid di Kementerian Koordinator Bidang Perekonomian Republik Indonesia.  Kegiatan kuliah tamu dihadiri oleh total 75 peserta meliputi mahasiswa dan dosen Departemen Food Technology.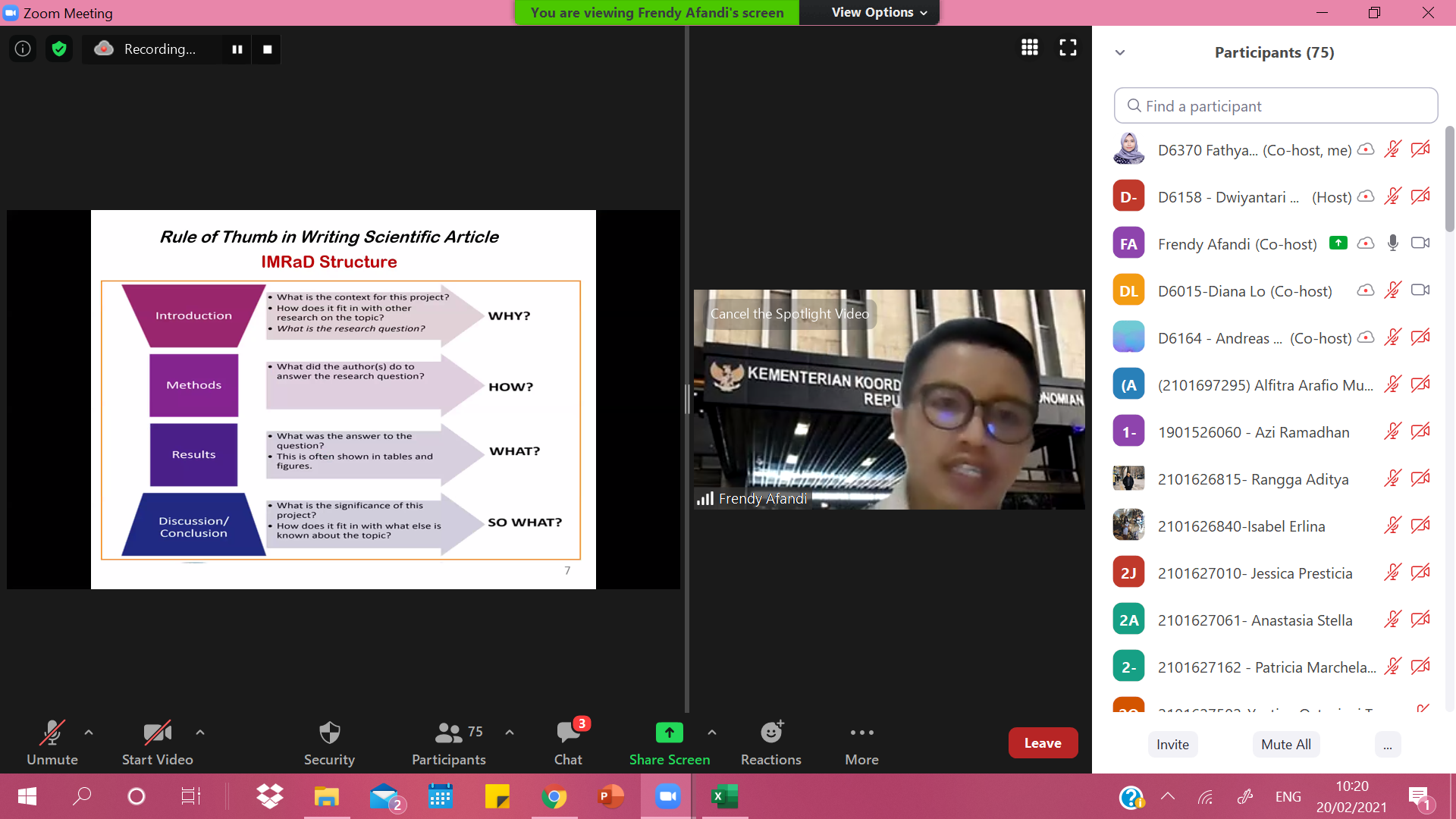 Pada kegiatan tersebut Bapak Frendy memaparkan manfaat dari systematic review untuk skripsi mahasiswa, khususnya program studi teknologi pangan. Kondisi pandemi COVID-19 berdampak pada aktivitas perkuliahan, termasuk kegiatan penelitian yang umumnya menjadi tugas akhir / skripsi. Penelitian bidang teknologi pangan yang umumnya dilakukan di laboratorium sangat terdampak dengan adanya pembatasan akses demi menjaga keselamatan dan kesehatan para peneliti di tengah pandemi. Systematic review dapat menjadi alternatif kegiatan penelitian teknologi pangan.
Dijelaskan oleh Bapak Frendi teknis menyusun systematic review mulai dari menentukan kata kunci (keywords), mencari literatur pada sistem database, hingga proses sortasi menggunakan diagram prisma. Informasi ini sangat berguna tidak hanya bagi mahasiswa-mahasiswi tingkat terakhir namun juga untuk para dosen pembimbing.