Guest Lecture – PT. Nutrifood Indonesia – Brand Development and Marketing Strategy in Food and Beverages Industry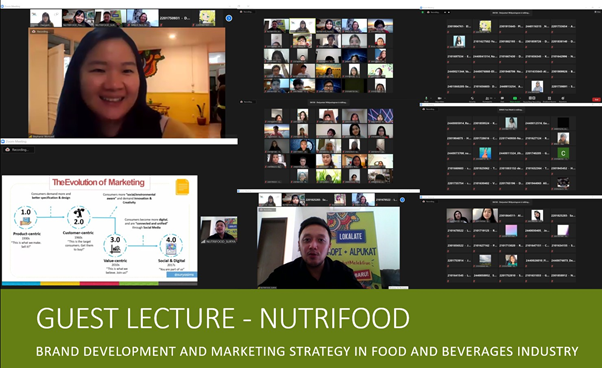 Pada Sabtu, 21 October 2020 diadakan Guest Lectures dari PT. Nutrifood Indonesia dengan topik "Brand Development and Marketing Strategy in Food and Beverages Industry". Pembicara dari NUTRIFOOD adalah Ibu Stephanie Wonoadi (Brand Manager Nutrisari), Bapak Suryana Litana (Marketing Manager Area Jakarta), dan Ibu Paulina Nina (HR Nutrifood).
Acara dibuka tepat pukul 09.00 WIB yang mana dihadiri sekitar 160 mahasiswa dari Angkatan BINUSIAN 2021-2024. Pembahasan diawali oleh Ibu Paulina yang mana menyajikan Company Virtual Tour dari Nutrifood. Pembahasan dilanjutkan Ibu Stephanie Wonoadi yang menjelaskan bagaimana cara membangun sebuah brand. Brand merupakan sebuah PROMISE bagi konsumen.  Seperti Nutrisari yang terus menyajikan produk berkualitas dengan kandungan vitamin sesuai dengan kebutuhan AKG. Pembahasan kemudian diisi oleh Pak Suryana Litana dengan materi Marketing 4.0. Pak Surya bercerita efek dari strategi pemasaran yang berperan pada penjualan dan image produk.
Mahasiswa mengikuti acara ini dengan aktif yang mana beberapa mahasiswa mengajukan pertanyaan terkait materi yang telah disampaikan. Beberapa mahasiswa sangat dengan tertarik dengan alasan dibalik pengembangan variasi rasa Nutrisari. Menurut Bu Stephanie, salah satu manfaat dari beragamnya rasa pada Nutrisari adalah menarik konsumen yang semakin luas. Selain itu, mahasiswa juga tertarik dengan sistem marketing 4.0 yang mana salah satu implikasinya ada social media marketing.
Dengan kegiatan ini, mahasiswa diharapkan mendapatkan wawasan terkait pengembangan brand dan strategi marketing. Semoga dengan adanya acara ini, Kerjasama yang telah terjalin antara Food Technology BINUS dan NUTRIFOOD menjadi semakin erat.