Visit of Prof. Wen-Yaw Chung from Chung Yuan Christian University, Taiwan
Visit of Prof. Wen-Yaw Chung, PhD from Chung Yuan Christian University, Taiwan
It is an honor for BINUS, especially the Department of Food Technology, to be visited from a distinguished Professor from the Department of Electronic Engineering, Chung Yuan Christian University, Taiwan, Professor Wen-Yaw Danny Chung, PhD on April 23-27, 2018. This visit is outstandingly organized by Binus Graduate Program and Binus International Office.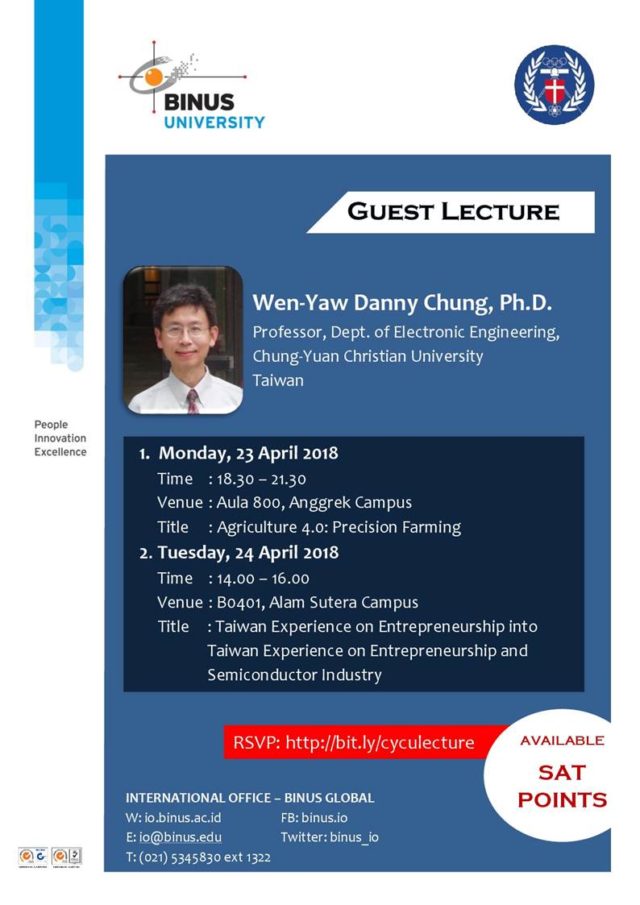 On Monday April 23, 13:30-16:30 Prof. Chung delivered a 3-hours training for Binus lecturers on "How to write and publish in a reputable journals", crystallized from his expertise and experience on writing >100 scientific papers and also on serving as a reviewer in various international journal, especially in the Q1 Scopus-indexed Sensors and Actuators B: Chemical, from Elsevier BV, Amsterdam, Netherlands.
Furthermore on 18:30-21:30 he described his cross-field multidisciplinary research that combines the field of electronic engineering, computer engineering, agriculture, food technology, chemistry, chemical engineering, mathematics, physics for preparation of "Agriculture 4.0" (which is in harmony with "Industry 4.0"), for the smart farming combining highly advanced sensors with IoT (internet of things). This speech proves that science disciplines must not be divided, but they shall complement each other in order to tackle various problems in the future.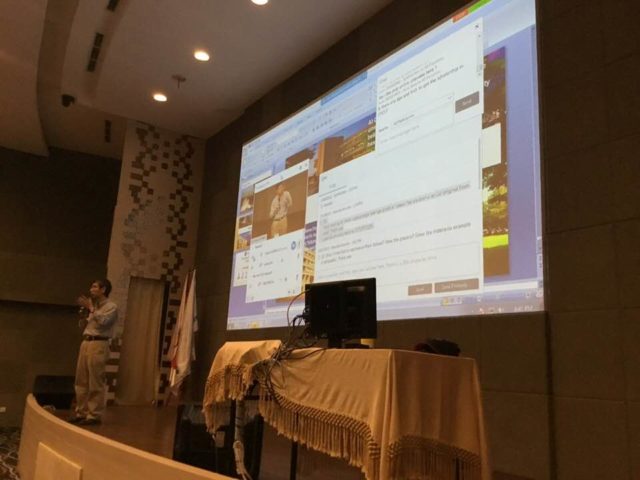 On Tuesday, April 24, Prof Danny gives a speech+online webinar at Binus Alam Sutera Auditorium regarding the excellence and entrepreneurship of Taiwan as one of the leaders in the semiconductor industry. This online webinar is highly supported by Binus Knowledge Management Division.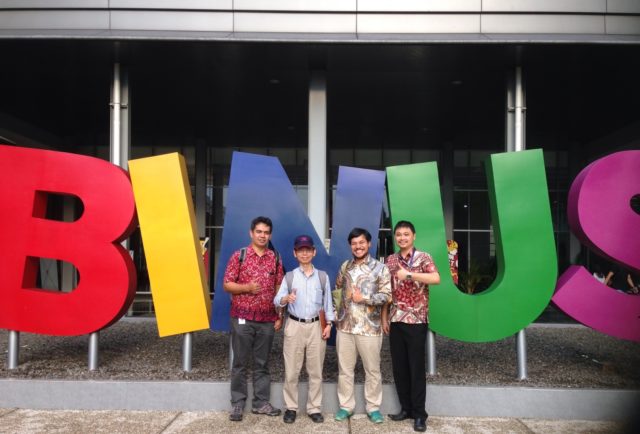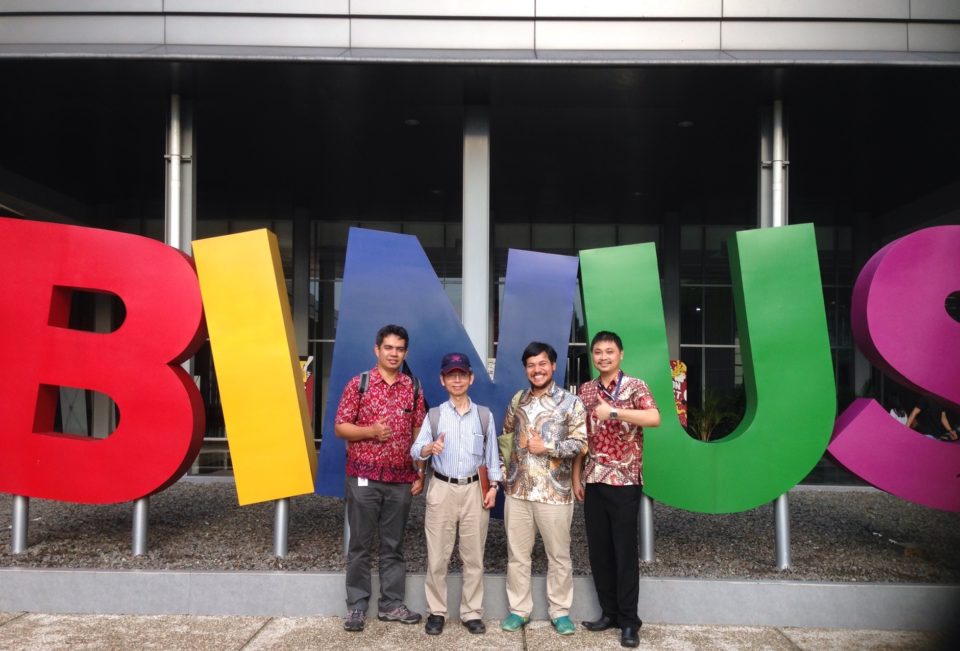 After the speech, Prof Chung visited the Department of Food Technology, Bina Nusantara University, and the laboratories there, discussed with several students of the Department of Food Technology about their research, and also reviewing about the possibility of creating further collaboration between Binus and CYCU in the future (to be discussed on Friday April 27, 2018).
L to R: Emil Kaburuan, PhD – Binus Graduate Program, Master of Management in Information Systems; Prof. Danny Chung – Electronic Engineering, Chung Yuan Christian University; Ricky – PhD candidate, Chung Yuan Christian University; Dave Mangindaan, PhD – Deputy Head of Food Technology. All of them are alumni of Taiwan higher education system.
We sincerely hope that Prof Chung's visit (first visit to Indonesia) will be an enjoyable and exciting.