A Practical Guide to Flexible Packaging – Book Review
"A Practical Guide to Flexible Packaging: Material, Teknologi, Aplikasi"
Penulis: Sri Julianti
Penerbit: PT Gramedia Pustaka Utama (2017)
Tebal halaman: 198 halaman
"A Practical Guide to Flexible Packaging: Material, Teknologi, Aplikasi" karya Ibu Sri Julianti merupakan suatu buku terbitan 2017 yang melengkapi khazanah pembahasan pengemasan tidak hanya dari aspek desain dan estetika saja, namun juga dari aspek proses produksi yang sangat kental fondasi keteknikannya, serta dari sisi kimiawi material serta fungsi sebagai material penghalang kelembaban/penghalang uap (barrier material). Buku ini merupakan hasil kristalisasi pengalaman Ibu Sri Julianti sebagai pakar kemasan di suatu industri multinasional, serta keberlanjutan hasrat beliau untuk berbagi ilmunya pada buku sebelumnya, yaitu "The Art of Packaging" (2014, terbitan PT Gramedia Pustaka Utama).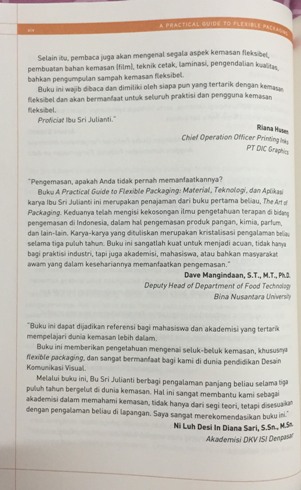 Di dalam buku ini pertama-tama dijelaskan pentingnya kemasan, baik dari sisi penjaminan kualitas maupun untuk promosi, branding. Terdapat beberapa jenis kemasan, yaitu kemasan yang langsung kontak dengan bahan pangan (kemasan primer) namun ada juga kemasan untuk mempermudah penyimpanan (kemasan sekunder) serta kemasan untuk menjamin keamanan saat pengiriman (kemasan tersier). Dipaparkan juga mengenai bahan-bahan pembentuk kemasan fleksibel, seperti polyethylene (PE), polypropylene (PP), polystyrene (PS), dll.
Kemasan pangan yang baik tentunya dilengkapi dengan barrier material untuk menghalangi uap air/kelembaban masuk ke dalam produk, ataupun menjaga agar aroma makanan jangan sampai kabur ke luar kemasan. Barrier material tersebut berupa aluminum foil, metalized film, dll yang kemudian disatukan dengan kemasan menggunakan lem khusus yang melalui proses perekatan/laminasi yang khusus pula. Pengemasan pangan terkini bisa terdiri dari beberapa lapis bahan polimer, lem/perekat, barrier material, aluminum foil hanya dengan ketebalan total <1 mm, dan sudah harus termasuk printable materials untuk bisa memasukkan merek, ingredients, maupun foto untuk menarik konsumen.
Berdasar paparan singkat sebelumnya, jelas sekali bahwa pengemasan (terutama untuk pengemasan pangan) merupakan suatu teknologi yang canggih, dan tidak main-main dengan standar yang ketat (kemasan harus makin ringan agar mempermurah logistic transportasi, namun harus makin lengkap agar kualitas terjaga). Hal ini membuat teknologi pengemasan merupakan suatu kesatuan dari proses industrial penting bagi teknologi pangan. Kemasan dengan bahan dasar film diproduksi umumnya dengan menggunakan proses blown film, cast film, extrusion dll. Kemasan yang sudah jadi kemudian diisi dengan produk dan disegel menggunakan mesin form fill seal, fill seal, welding/las (hot sealing, ultrasonic welding, hot air sealing dll.)
Bagi jurusan Food Technology, tentunya buku ini merupakan sesuatu yang berguna bagi pengembangan pengetahuan dalam negeri, khususnya teknologi pengemasan pangan. Sudah bukan rahasia lagi bahwa pengemasan sangatlah esensial bagi produk pangan komersial.
Tertarik serunya jurusan Food Technology Binus University? Ayo #GabungBINUS!
http://line.me/ti/p/%40gabung_binus
Save
Save
Save
Save
Save